9 oktober 2010 (Av Albin Ridefelt)
Andraplats på 25manna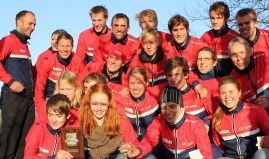 Förstalaget (Foto: Peter Ridefelt)


4 lag till start precis som förra året. I år tog sig alla i mål, med det bästa på en 2a-plats - vilket 25manna det blev!

21 maj 2007 (Av Suzanne Armstrong)
Holiday weekend in Hälsingland


The elder generation of first team runners will have to tolerate being placed in the background, behind the young talants. (Foto: Erik Melin)

The holiday weekend in Hälsingland included lots of different types of orienteering races and some nice time to relax together at the hostel too. Over 40 Linné club members enjoyed the long weekend and 4 days of racing.
13 januari 2007 (Av Peter Ridefelt)
NC Cup I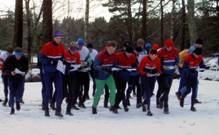 Orienteringsåret 2007 startar! (Foto: Peter Ridefelt)


Anders Eriksson sparkade igång Uppands och Linnés orienteringsår med första deltävlingen i NC Cup på lördagen i Fjällnora.

23 januari 2006 (Av Boris Granovskiy)
Is there such a thing as too much snow?


Food is served at the ski camp in Orsa-Grönklitt. (Foto: Boris Granovskiy)

My first winter ski camp with OK Linné was an exciting one. This year the camp took place at the Orsa-Grönklitt ski resort from January 19–22 and involved around 40 Linné club members and friends, as well as tons of snow!

Äldre nyheter Arkiverat


OK Linné i sociala medier