16 maj 2017 (Av Jan Troeng)
Crash Course to Orienteering
Do you want to try a popular Swedish sport challenging both your legs and your brain? And at the same time take the opportunity to experience the Swedish nature? Join the Crash Course to Orienteering, hosted by the the orienteering club OK Linné in Uppsala. Open for all students and employees at Uppsala university!
What is orienteering?
Orienteering is a popular sport in Sweden. The basic idea is to complete a pre-defined course using a map and a compass. The course has a number of controls/checkpoints, which all have to be passed in the correct order. Orienteering courses can be set up in the forest or in towns. In Sweden, around 80 000 people have membership in orienteering clubs.

Orienteering is known as a family sport, offering courses from the ages of 5 up to 90.

Movie: Orienteering - More than just running
Movie: Orienteering in Uppsala from the air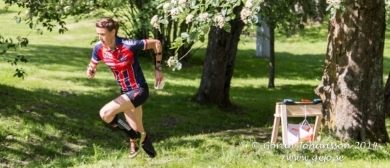 How do I enter the Crash Course to Orienteering?
Join one or several sessions - you decide. No previous skills needed. Entries are made to each of the five sessions separately, see entry/sign up links below. The Crash Course to Orienteering is open to all students and empolyees at Uppsala university.

SESSION 1 - MAY 24TH - WORLD ORIENTEERING DAY 2017
Around 20 people from Uppsala university joined Uppsala's World Orienteering Day session at Uppsala Castle, and became part of a new world record! In total, 288 000 participants from 79 different countries took part in an orienteering event this day.

SESSION 2 - AUGUST 30th - HITTAUT AND NATURPASSET
We went over the orienteering basics - the map, the compass, the map symbols - simply how to find the controls.

As a practical session, we collected (with great success) checkpoints in Naturpasset and hittaut in Stadsskogen.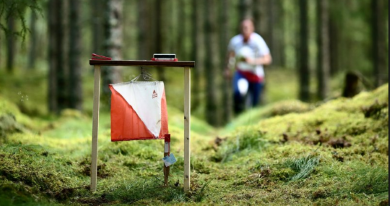 SESSION 3 - SEPTEMBER 7th - ORIENTEERING COURSE TRY-OUT
We ran a course with GPS equipment and one super-sprint course with electronic punching, before following up our route choices and split times.

SESSION 4 - SEPTEMBER 26th - HITTAUT AND NATURPASSET
We started with a general introduction to the Swedish forests and nature, and the unique "Allemansrätten", the right of public access. The practical session was an orienteering course, about 4 km, with some checkpoints from hittaut.

SESSION 5 – WEDNESDAY OCTOBER 18th - NIGHT ORIENTEERING
Time for adventure! Orienteering in the dark with headlamp is an exciting and popular type of orienteering. Join the last session of the Crash Course to Orienteering and challenge yourself with orienteering in the dark. Run alone or together with friends.

Entry
Sign up no later than Monday 16th of October, 11.59 am. Note that there is a maximum of 30 participants, so sign up today! No entry fee.

Where and when?
OK Linné's club house, Tallbacksvägen 68 in Uppsala. We meet up at 18.00 and finish around 19.30-20.00.

Included in the session
Practical session: Night orienteering. Time for adventure! Orienteering in the dark with headlamp is an exciting and popular type of orienteering.
Theory session: Guideline to night orienteering and to the technical equipment used. Follow up after the practical session. Course summary and wrap up.

What to bring?
Training clothes (long sleeves) and running shoes recommended. We will lend you head lamps. If you have a strong headlamp (more than 1000 lumen) and want to bring and use it, please leave a comment in the entry sheet. If you want, you can use the changing room and the shower after the session.

What if I didn't take part in the previous sessions?
Stay cool! We will give you a basic introduction to orienteering and the map. Of course you can also do the course together.

Bring your friends!
Up to 30 people can take part at each session. Bring your friends!

FURTHER READING AND LINKS
Training with OK Linné
You can easily join our trainings! Information and training program at www.oklinne.nu.

Main club trainings are normally organised on Tuesdays and Thursdays.
If you want to take part in activities where an entry is needed (certain orienteering trainings, or competitions), you have to ask for an account and become a member of the club.

Träna med oss (Train with us) in Swedish
Train with us (Google Translate)
OK Linné on Facebook

For furhter information, contact Lena Nilsson familjen.nilsson.7@hotmail.com

The healthcare project hittaut.nu
Interested in collecting more checkpoints? Try and register to hittaut!
Hittaut - how it works.

So far this year in Uppsala's hittaut project, 2 400 participants have registered more than 100 000 checkpoints! Have some nice exercise and get to know the Uppsala surroundings, and at the same time help the project grow even bigger!


Länka till den här artikeln med
http://www.oklinne.nu?page=news&id=4671
Artikeln har visats 1664 gånger


6 december (Av Märit G Karlström)
Protokoll från Höstmötet
Nu kan ni läsa protokoll från höstmötet


22 november (Av Viktor Janrik)
Prioriterade träningsdagar med ESEK
Nytt koncept lanseras inför vinterträningen.


20 november (Av Mika Numminen)
Dags att reglera balansen på Min Ekonomi!
Nu börjar det närma sig jul, och det innebär att det är dags att se över ME-balansen.


2 november (Av Samantha Saeger)
Tisdagsvärdar hösten 2018
Här finns listan över höstens tisdagsvärdar och instruktioner för värdarna.


OK Linné i sociala medier